Sat, 15 August 2009
127- Fly Like An Eagle
The week starts off with some negatives that affect Kenn's normally cheerful disposition. He snaps back after singing Steve Millers' "Fly Like An Eagle". Shoot Don't Shoot has a twist, it's from the criminals optic. A Joke. News, and more.
---
Sat, 8 August 2009
126 - Right Place Wrong Time
On this hour long + podcast Kenn talks about 1973, Dr. John's hit song "Right Place, Wrong Time" is the title track, the M1911, paintball and airsoft for beginners like him. Jokes, shout outs and input from Urban Shooters. News about the new suit against Wash. DC and the Chief of the Metropolitan Police. And much love. Please send a review to itunes for me if you haven't before. Thank you very much.
Kenn
---
Sat, 1 August 2009
125- CrossFire -USP
Kenn sings Stevie Ray Vaughns' "Crossfire",
Joke
Lunar Effect
News
Prayer
New Patch coming for Urban Shooter supporters
Airsoft and Paintball feature coming soon
Remington 870 Pump Shotgun shopping
New iPhone App for gun rights - www.gunrightsapp.com
Camp Perry - http://www.odcmp.com/NationalMatches.htm
---
Sat, 25 July 2009
124 - Run Thru The Jungle
News about the nation wide reciprocity act that failed & commentary about it
NICS proves sales are up
Kenns version of "Run Through the Jungle" by CCR
A prayer and Message for men, HOPE
Part two of the 870 Remington Pump Shotgun
Ten Commandments of Gun Safety
Please tell someone about the podcast. spread the news www.urbanshooter.us
---
Sun, 19 July 2009
123- Easy as 123
Easy as 1,2,3. This is episode 123 of The Urban Shooter Podcast
Quick tips- Jeff contributes
Kenn sings "Easy" from Lionel Ritchie
Gun Review: About the 870 Shotgun part 1 (Article by Clint Smith)
PSA- Suicide
News: Legal Guns in DC not used one year later – Washington Times
Interesting Person of the Week: Vernadine Schatzline-
HOT NEW PROGUN VIDEO - http://www.youtube.com/watch?v=o86JTxJ9myU
---
Sun, 12 July 2009
122- Loving You
Kenn sings Otis Reddings' song Protecting your Ears About May and Shall Issue News Report from the GOA about Vet Rights Just some comments as I plan something big for Urban Shooter Association members. http://www.nraila.org/GunLaws/Federal/Read.aspx?id=70 http://www.tsa.gov/travelers/airtravel/prohibited/permitted-prohibited-items.shtm#6 Kenns' video- http://vimeo.com/5544067 Don't forget www.Oursafehome.net for beginning firearms training online.
Ken Blanchard - Freedom from MG on Vimeo.
---
Sat, 4 July 2009
121- Its about US
the NEW "Pro-gun Variety Podcast"
Kenn sings, Eddie Floyd's "Knock on Wood"
Happy Independence Day

After realizing what my show was, I changed the opening courtesy of my favorite voice over guy and share the spotlight with other Urban Shooter listeners this week. My friends really bless me on this show.
Episode 121 is About US.
The Second Amendment and what the 4th of July means. Rick Ector- Detroithttp://detroitcpl.blogspot.com/2009/07/what-this-fourth-of-july-means-to-this.html, Derek G.- FL, Shadrack M- DE, Tony Brown-AZ- (Firearm Café Podcast) Nate H- CA contribute.
Good News- The future of gun rights is in good hands with the tactical Gen. X, Y, and Millennials
Zombie Strike returns with Mick McArt of the Armed Citizen podcast, and Eric Shelton of the Handgun podcast.
Protecting What's Yours- thoughts about preparation, mindset, and stalkers
"Struggle is the proof you have not been conquered"
Thanks for listening, please send a review on iTunes or Zune. And tell a friend about the show.
Your friend and brother from a different mother, Kenn
Don't forget www.Oursafehome.net for beginning firearms training online.
---
Thu, 25 June 2009
120- Just Sharing, Guns, Knowledge and Experiences
see www.urbanshooterpodcast.com
Skip Coryell- www.Secondamendmentmarch.com
CCW in Wisconsin
"Gun Free Zone Fallacy" - Travis Donily
Tip-Save your eyes
"Guns, Kill, Murder and Revenge"
podsafe music from Ken Robarge and Psychosoul
Kenn sings the Impressions version of "It's Alright" in the opening.
Don't forget to leave a review in iTunes. Thank you for listening. Please tell your friends.
---
Sat, 20 June 2009
119.2-Body Armor and Protecting Your Assets
This is the second reiteration. the first version was missing 7 minutes.
Kenn sings Bo Diddly's "Who Do You Love",
thoughts of Fathers Day,
Gun Owners as Minorities,
news: Hero-Gear.com releases their first rifle.
Shout Ours Galore,
about the show, Urban Shooter Association Contest,
www.crossbreedholster.com,
new zombie targets, blackmanwithagun.com,
clip from "Soul Men",
input about ballistic vest from Ted Deeds of the Law Enforcement Alliance of America, MiguelCaballeroUSA.com, and Doc Wesson of the Gun Nation podcast.
---
Mon, 15 June 2009
118- Go Green, Learn to Reload
Green River- Kenn sings a 60's classic originally from Creedence Clearwater Revival. Think I was near green river
Tennessee and some of TN done rubbed off on your boy. I like music of all types so don't typecast me. (smile) Introducing "OurSafeHome.net" a new computer based training system for women to get familiar with firearm safety. It won't replace traditional training but will help more people learn on their own faster.
Introducing Discreet Carry AR15/M16 Kit from Persimmon Ridge Enterprises, Inc. tac2@preinc.net
Hope for more ammo Being Content with what you have-
I am not saying this because I am in need, for I have learned to be content whatever the circumstances. Phillipians 4:11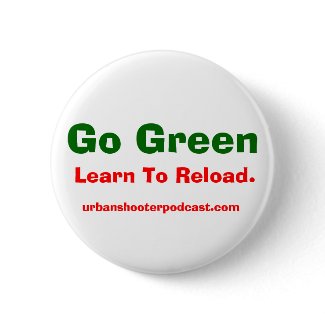 Go Green Button
by
KennBlanchard
buy buttons
at Zazzle
---