Wed, 30 December 2009
146 - Watch Night 2009
Happy New Year Urban Shooters! For the full show notes visit www.urbanshooterpodcast.com See you next year.
---
Thu, 24 December 2009
145- Living For The City
see www.urbanshooterpodcast.com for the notes. Merry Christmas!
---
Fri, 18 December 2009
144 - Christmas Card
for details see www.urbanshooterpodcast.com under episodes for the show notes. Merry Christmas
---
Wed, 9 December 2009
143 New or Used Gun For Christmas
The Gun Rabbi is back to introduce his CD, The Ten Commandments of Self Defense
Gun Safety Tip
Kenn sings, This Christmas
Tips for buying a used gun
New Reality Show for Urban Shooter Listeners-Exclusive interview
Shout Outs
Zombie Strike #14
Kenn and the Rabbi sing Hava Nagila
Happy Chanukah!
www.urbanshooterpodcast.com for more fun!
---
Tue, 1 December 2009
142- Tis The Season Baby
Kenn Sings, Eric Clapton's version of "Before You Accuse Me"
Interview with Michael W. Dean
Shoot Don't Shoot
Silliness, jokes and getting ready for the Holiday Season. Zombie Strike #13.
New Pro-gun organization for "cool people only" Urban Shooter Association
Visit the new updated site on www.urbanshooterpodcast.com
---
Wed, 25 November 2009
thank you
thank you for listening, I love you.
Kenn
---
Fri, 20 November 2009
141- Southern Fried Turkey
Almost 90 minutes long this week but what a variety!
Kenn shares a Christmas wish list of a few guns he wouldn't mind getting.
Zombie Strike Chapter 12,
Jens from Germany tells what it takes to register a firearm there,
Rabbi Dovid aka The Gun Rabbi and Kenn speak frankly about life with lessons from the Torah.
Thanks for some many things. and Kenns' normal silliness.
www.urbanshooterpodcast.com
---
Sat, 14 November 2009
140 - ZZ
Shooting Back author Charl Van Wyk Halfway to Somewhere author - Suzanne McComas Veteran Day celebrating the 234th USMC Birthday Zombie Strike Chapter 11 Missionary Trip to South Africa and Kenn needs your support/prayers. twitter: urbanshooterpod Theme ZZ TOP- kenn sings La Grange. visit www.urbanshooterpodcast.com for details and more fun!
---
Thu, 5 November 2009
139 Word Up
-undefined-
---
Fri, 30 October 2009
138- Listener Appreciation
http://www.recellular.com/recycling/data_eraser_data@wirelessrecycling.com Mental Preparedness I love you, thank you for listening. Join the new Urban Shooter Association kenn@urbanshooterpodcast.com zombie strike chapter 9 and the Epilogue Harp 46.com Willie Nelsons' "Angel flying too close to the ground sung by Kenn If you liked the show, please tell someone, write a review on iTunes or send an email link to your friends. www.urbanshooter.us
---
Thu, 22 October 2009
137 - On The Move
Firepower Packed Show that is over an HOUR .
Pro trainers Mas Ayoob, and Rob Pincus give their unique perspectives about Moving and Shooting
Zombie Strike Chapter 8 part 2
Kenn sings Witchy Woman
Jerome from California shares the woes of CALI
make sure you consider joining the the Urban Shooter Association and visiting www.urbanshooterpodcast.com
---
Fri, 16 October 2009
136- Some Like It Hot
www.urbanshooterpodcast.com for details Chicago is in the news this week. Zombie Strike chapter 8 part 1 of a conclusion Sex talk and guns, a discussion YO Mama jokes and calls Shorter show because I got the HNIC virus. Forgive the bad singing.
---
Wed, 7 October 2009
135- Mission Statement
Sponsored by www.crossbreedholsters.com and generous contributions from members of the Urban Shooter Association. Visit www.urbanshooterpodcast.com for details of this show. Write a review on iTunes for The Urban Shooter Podcast. You can contact me at kenn at urbanshooterpodcast.com Thank you very much for listening. Please share the show now that you have found me with your friends.
---
Thu, 1 October 2009
134 - Growing Up With Guns
http://urbanshooterpodcast.com/2009/10/01/134-growing-up-with-guns
---
Thu, 24 September 2009
133- The First Amendment
Sedition, vilify, Sedition Act of 1918 read by Michael W. Dean of www.rightarmofwyoming.com, "You might be a racist" from Patriothumor.us, Fever as sung by Kenn, Author and broadcaster Mark Walters, Zombie Strike chapter 5. www.urbanshooterpodcast.com for details, please leave a comment on iTunes. Thank you so much for listening.
---
Sat, 19 September 2009
132 - Inner City Blues
This is a subject rich episode where Kenn talks frankly about racism, five types of people that you can find sympathetic to joining the gun rights movement, Inner City Blues, Zombie Strike chapter 4, Tips for buying online from Jens in Germany. And interview with a MD Tenth Cavalry member/leader. New Music from RightArmofWyoming.com - go to www.urbanshooterpodcast.com for details.
---
Fri, 11 September 2009
131- I'm Your Vehicle Baby
Carrying A Gun In Your Car Terrorism- Remembering 9/11 Chapter 3 –Zombie Strike, Narrated stories by Derek Ward Kenn sings 60's hit, "Vehicle" by The Ides of March SEE www.urbanshooterpodcast.com
---
Mon, 7 September 2009
USP 130- Chillin' and Grillin'- Labor Day 2009
It's a Stormy Monday but its all good. visit www.urbanshooterpodcast.com
---
Thu, 27 August 2009
129- So Damn Happy
129- So Damn Happy see the new site on www.urbanshooterpodcast.com for the show notes. Radar Love- Golden Earring (1973) Gun Review of the Model 66 S&W Zombie Strike- New Story read by Kenn, Part one, written by Derek Ward
---
Fri, 21 August 2009
USP 128- Black Man With A Gun
New site for podcast show notes on www.urbanshooterpodcast.com Kenn tackles the controversial Black Man With A Gun episode in AZ Airsoft conversation with Matt A father and son go to GunSite, Jeff's report Kenn sings Louis Armstrong's "Wonderful World" Phil 4:8
---
Sat, 15 August 2009
127- Fly Like An Eagle
The week starts off with some negatives that affect Kenn's normally cheerful disposition. He snaps back after singing Steve Millers' "Fly Like An Eagle". Shoot Don't Shoot has a twist, it's from the criminals optic. A Joke. News, and more.
---
Sat, 8 August 2009
126 - Right Place Wrong Time
On this hour long + podcast Kenn talks about 1973, Dr. John's hit song "Right Place, Wrong Time" is the title track, the M1911, paintball and airsoft for beginners like him. Jokes, shout outs and input from Urban Shooters. News about the new suit against Wash. DC and the Chief of the Metropolitan Police. And much love. Please send a review to itunes for me if you haven't before. Thank you very much.
Kenn
---
Sat, 1 August 2009
125- CrossFire -USP
Kenn sings Stevie Ray Vaughns' "Crossfire",
Joke
Lunar Effect
News
Prayer
New Patch coming for Urban Shooter supporters
Airsoft and Paintball feature coming soon
Remington 870 Pump Shotgun shopping
New iPhone App for gun rights - www.gunrightsapp.com
Camp Perry - http://www.odcmp.com/NationalMatches.htm
---
Sat, 25 July 2009
124 - Run Thru The Jungle
News about the nation wide reciprocity act that failed & commentary about it
NICS proves sales are up
Kenns version of "Run Through the Jungle" by CCR
A prayer and Message for men, HOPE
Part two of the 870 Remington Pump Shotgun
Ten Commandments of Gun Safety
Please tell someone about the podcast. spread the news www.urbanshooter.us
---
Sun, 19 July 2009
123- Easy as 123
Easy as 1,2,3. This is episode 123 of The Urban Shooter Podcast
Quick tips- Jeff contributes
Kenn sings "Easy" from Lionel Ritchie
Gun Review: About the 870 Shotgun part 1 (Article by Clint Smith)
PSA- Suicide
News: Legal Guns in DC not used one year later – Washington Times
Interesting Person of the Week: Vernadine Schatzline-
HOT NEW PROGUN VIDEO - http://www.youtube.com/watch?v=o86JTxJ9myU
---
Sun, 12 July 2009
122- Loving You
Kenn sings Otis Reddings' song Protecting your Ears About May and Shall Issue News Report from the GOA about Vet Rights Just some comments as I plan something big for Urban Shooter Association members. http://www.nraila.org/GunLaws/Federal/Read.aspx?id=70 http://www.tsa.gov/travelers/airtravel/prohibited/permitted-prohibited-items.shtm#6 Kenns' video- http://vimeo.com/5544067 Don't forget www.Oursafehome.net for beginning firearms training online.
Ken Blanchard - Freedom from MG on Vimeo.
---
Sat, 4 July 2009
121- Its about US
the NEW "Pro-gun Variety Podcast"
Kenn sings, Eddie Floyd's "Knock on Wood"
Happy Independence Day

After realizing what my show was, I changed the opening courtesy of my favorite voice over guy and share the spotlight with other Urban Shooter listeners this week. My friends really bless me on this show.
Episode 121 is About US.
The Second Amendment and what the 4th of July means. Rick Ector- Detroithttp://detroitcpl.blogspot.com/2009/07/what-this-fourth-of-july-means-to-this.html, Derek G.- FL, Shadrack M- DE, Tony Brown-AZ- (Firearm Café Podcast) Nate H- CA contribute.
Good News- The future of gun rights is in good hands with the tactical Gen. X, Y, and Millennials
Zombie Strike returns with Mick McArt of the Armed Citizen podcast, and Eric Shelton of the Handgun podcast.
Protecting What's Yours- thoughts about preparation, mindset, and stalkers
"Struggle is the proof you have not been conquered"
Thanks for listening, please send a review on iTunes or Zune. And tell a friend about the show.
Your friend and brother from a different mother, Kenn
Don't forget www.Oursafehome.net for beginning firearms training online.
---
Thu, 25 June 2009
120- Just Sharing, Guns, Knowledge and Experiences
see www.urbanshooterpodcast.com
Skip Coryell- www.Secondamendmentmarch.com
CCW in Wisconsin
"Gun Free Zone Fallacy" - Travis Donily
Tip-Save your eyes
"Guns, Kill, Murder and Revenge"
podsafe music from Ken Robarge and Psychosoul
Kenn sings the Impressions version of "It's Alright" in the opening.
Don't forget to leave a review in iTunes. Thank you for listening. Please tell your friends.
---
Sat, 20 June 2009
119.2-Body Armor and Protecting Your Assets
This is the second reiteration. the first version was missing 7 minutes.
Kenn sings Bo Diddly's "Who Do You Love",
thoughts of Fathers Day,
Gun Owners as Minorities,
news: Hero-Gear.com releases their first rifle.
Shout Ours Galore,
about the show, Urban Shooter Association Contest,
www.crossbreedholster.com,
new zombie targets, blackmanwithagun.com,
clip from "Soul Men",
input about ballistic vest from Ted Deeds of the Law Enforcement Alliance of America, MiguelCaballeroUSA.com, and Doc Wesson of the Gun Nation podcast.
---
Mon, 15 June 2009
118- Go Green, Learn to Reload
Green River- Kenn sings a 60's classic originally from Creedence Clearwater Revival. Think I was near green river
Tennessee and some of TN done rubbed off on your boy. I like music of all types so don't typecast me. (smile) Introducing "OurSafeHome.net" a new computer based training system for women to get familiar with firearm safety. It won't replace traditional training but will help more people learn on their own faster.
Introducing Discreet Carry AR15/M16 Kit from Persimmon Ridge Enterprises, Inc. tac2@preinc.net
Hope for more ammo Being Content with what you have-
I am not saying this because I am in need, for I have learned to be content whatever the circumstances. Phillipians 4:11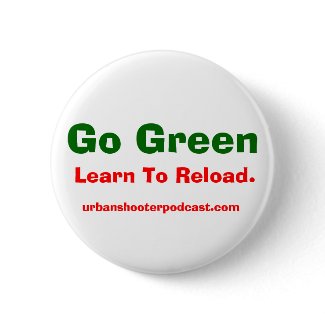 Go Green Button
by
KennBlanchard
buy buttons
at Zazzle
---
Tue, 9 June 2009
Smooth- Episode 117- The Urban Shooter Podcast
Kenn sings a Santana song. Trip to Tennessee introduced me to Hero-Gear.com, a .458 WinMag conversion rifle that used to be a M1 garand, McCann Industries, and Oleg Volk in person. Jokes, News, and a new feature.
---
Mon, 1 June 2009
NY State of Mind - USP #116
Interview with John L. Cushman about NY RKBA The perfect Gun Where to Store your firearm Kenn's Folsom Prison Blues www.crossbreedholsters.com http://podiobooks.com/title/a-users-manual-for-the-human-experience http://www.GunTrustLawyer.com/
---
Mon, 25 May 2009
Face Toward Enemy- USP #115
Face the speakers toward the nongun people and maybe you can show them not all pro-gun people are the same. This show features two articles from listeners. Curtis Dixon of Louisiana and Father Daniel Beegan share their thoughts on Campus Carry and the Ammo Shortage (respectively). About campus concealed carry, concealedcampus.org, Ruger SR556, remembering those that died in the service of our country, and about Memorial Day. facebook me and look for me on twitter. www.kennblanchard.com has all my links.
---
Mon, 18 May 2009
114- After The Party
Here are some of the topics on this show, not in this order: Ballistic Fingerprinting- Dr. John R. Lott, Jr. Zombie Strike- NUGUN Blog's Jason .22 LR are a good investment New feature: SECURITY! And Kenn sings again…
---
Fri, 8 May 2009
This Masquerade - USP #113
Happy Mothers Day you muthas, about Mothers Day, Shoot Dont Shoot, about self defense, Live From The BoomStick Lounge, Kenn sings "This Masquerade", www.crossbreedholsters.com, www.kennblanchard.com, Please leave a positive comment on iTunes
---
Mon, 4 May 2009
Great Balls of Fire # 112
Great Balls of Fire as sung by Kenn Blanchard, give a man a Mac and who knows what will happen. Intro into the GLOCK 17/19, origins, specs and stuff, news from CALGUNS.net and reviews from Urban Shooter Glock owners. All fun, all free, all for you on episode 112 of the Urban Shooter Podcast. Sponsored by www.crossbreedholsters.com www.kennblanchard.com blackmanwithagun@gmail.com
---
Tue, 28 April 2009
I Can't Get No Satisfaction or Ammo
See www.kennblanchard.com for details. Kenn
---
Mon, 20 April 2009
Best Indoor Range On The East Coast - #110
Kenn reviewed and visited the Silver Eagle Group Range in Ashburn, VA. Details on www.urbanshooterpodcast.com. Show sponsored by www.crossbreedholsters.com. This show is shorter than most. Experimenting with time. Do you think it is too short?
email me
---
Tue, 14 April 2009
For My Peeps- show 109
This show has a serious tone where I take a hard look at where we are and propose how we treat it.
Shout Outs,
Diver City,
O Hell No (gun buy backs),
Suicide,
Navy SEALs story, (in Honor of our Fighting Men)

Happy Easter 2009!!!

---
Fri, 3 April 2009
Spring Time Simple - #108
www.Crossbreedholsters.com Presents-
The Urban Shooter Podcast
I keep it simple this show. Could you provide a review for me on iTunes?

This week:
Shouts outs galore
Apology about show 107
About the podcast
Tip for indoor ranges- Eye and Ear protection, targets and ammo
What Kenn shoots
What Kenn has on the horizon (plans)
A tribue to his grandmother called Her "Kitchen"

Thank you for you comments. see www.urbanshooterpodcast.com for more.
---
Sun, 29 March 2009
Keep It Real- #107
---
Tue, 17 March 2009
Church and Politics- Episode #106
I think there is part of a pro-gun sermon on this one. see www.urbanshooterpodcast.com for details

---
Thu, 5 March 2009
What's Cooking- Episode !05
Episode 105
What's Cooking
Zombie Strike with Mick McArt
Headline from the GOA and more
See www.urbanshooterpodcast.com for show notes.
---
Sun, 22 February 2009
Free- Episode 104
see www.urbanshooterpodcast.com for details.

---
Sun, 15 February 2009
B+ (Be Positive)
see www.urbanshooterpodcast.com for show notes

and www.blackmanwithagun.com for Zombie targets, and pics.

www.crossbreedholsters.com

---
Mon, 9 February 2009
"O.B.E." - episode 102
see www.urbanshooterpodcast.com or www.urbanshooter.blogspot.com for details.

---
Wed, 28 January 2009
The Urban Shooter Podcast-101- The Merry Old Land of OBZ
---
Sat, 10 January 2009
100th Episode
---