Thu, 25 June 2009
120- Just Sharing, Guns, Knowledge and Experiences
see www.urbanshooterpodcast.com
Skip Coryell- www.Secondamendmentmarch.com
CCW in Wisconsin
"Gun Free Zone Fallacy" - Travis Donily
Tip-Save your eyes
"Guns, Kill, Murder and Revenge"
podsafe music from Ken Robarge and Psychosoul
Kenn sings the Impressions version of "It's Alright" in the opening.
Don't forget to leave a review in iTunes. Thank you for listening. Please tell your friends.
---
Sat, 20 June 2009
119.2-Body Armor and Protecting Your Assets
This is the second reiteration. the first version was missing 7 minutes.
Kenn sings Bo Diddly's "Who Do You Love",
thoughts of Fathers Day,
Gun Owners as Minorities,
news: Hero-Gear.com releases their first rifle.
Shout Ours Galore,
about the show, Urban Shooter Association Contest,
www.crossbreedholster.com,
new zombie targets, blackmanwithagun.com,
clip from "Soul Men",
input about ballistic vest from Ted Deeds of the Law Enforcement Alliance of America, MiguelCaballeroUSA.com, and Doc Wesson of the Gun Nation podcast.
---
Mon, 15 June 2009
118- Go Green, Learn to Reload
Green River- Kenn sings a 60's classic originally from Creedence Clearwater Revival. Think I was near green river
Tennessee and some of TN done rubbed off on your boy. I like music of all types so don't typecast me. (smile) Introducing "OurSafeHome.net" a new computer based training system for women to get familiar with firearm safety. It won't replace traditional training but will help more people learn on their own faster.
Introducing Discreet Carry AR15/M16 Kit from Persimmon Ridge Enterprises, Inc. tac2@preinc.net
Hope for more ammo Being Content with what you have-
I am not saying this because I am in need, for I have learned to be content whatever the circumstances. Phillipians 4:11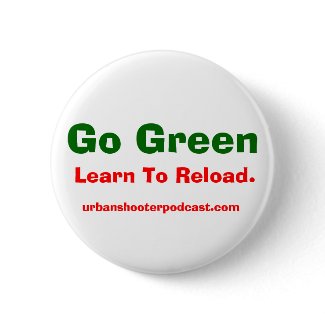 Go Green Button
by
KennBlanchard
buy buttons
at Zazzle
---
Tue, 9 June 2009
Smooth- Episode 117- The Urban Shooter Podcast
Kenn sings a Santana song. Trip to Tennessee introduced me to Hero-Gear.com, a .458 WinMag conversion rifle that used to be a M1 garand, McCann Industries, and Oleg Volk in person. Jokes, News, and a new feature.
---
Mon, 1 June 2009
NY State of Mind - USP #116
Interview with John L. Cushman about NY RKBA The perfect Gun Where to Store your firearm Kenn's Folsom Prison Blues www.crossbreedholsters.com http://podiobooks.com/title/a-users-manual-for-the-human-experience http://www.GunTrustLawyer.com/
---