Thu, 18 March 2010
157 True Victory Is
..victory over oneself. I am trying to improve my life, this show and everything I do. I changed the format a little, there is a new theme song, some jokes, two interviews, -Kim Rhode, and Liz Foley, I talk about the Pledge of Allegiance, Red Skelton, Zombie Strike #22, I get some input from my Facebook family about the sexiest guns, and talk about Taurus. Got a new logo, that is going to be on hats this season. Let me know what you think about this show. I still couldn't get the audio file smaller. blackmanwithagun@gmail.com I sing "Ring of Fire" too, originally by Johnny Cash.
Check out the show notes on Urbanshooterpodcast.com, and blogs on downrange.tv and ammoland.com.
---
Thu, 11 March 2010
156 How To Keep It All Together
Whatever happened to the City of Brotherly Love? (Sun Tzu)
Widows, Death and your Estate
Zombie Strike #22
Interview with Dr. Tantillo, Hunter Safety and Ethics
"How I Keep It All Together" ebook notes available upon request. ( copy of "one in a million you"- music bed used
Here I share some thoughts on how I juggle a couple of things. If it works for you, let me know. thank you very much for listening and being my friend.
Kenn
---
Sat, 6 March 2010
155 American History Part Four
"Born Under A Bad Sign" - originally from Albert King

New GunPal.com ad debuts- sign up today
Interview with Kitanica.net's Chris Cronin
Commentary on Women, Sex and Guns
History takes us to the Sullivan Act, the attack on Italian immigrants, prohibition and suppressors, NFA of 1934
Kenn explains his overpriced crap and hopes you will still support him and the show
"Chase" by Harp46
Thanks for listening.
Kenn Blanchard
---
Fri, 26 February 2010
154 Gun Control Blues.1
Zombie strike #21
GUNS IN THE NATIONAL PARKS
New iphone Ap for the USP
Interview with GunPal's founder Ben Cannon
Shoot Don't Shoot – U Decide
Kenn also sings Statesboro Blues by the Allman Brothers but changes the words.
new ebook out about Zombie Strike on urbanshooterpodcast.com
Meet me at Red, Hot, and Blue in Arlington, VA on 3/4/2010 @ 6PM!
---
Thu, 18 February 2010
153 American History Part Three
Mature Audience warning on this one as I use the "N" word as it was used in a document about Dr. Ossian Sweet in Detroit, Raisin in the Sun, history of the train and blues connection, Kenn sings- "Smokestack Lightning" , interview with Skip Coryell of the Second Amendment March.
---
Thu, 11 February 2010
152 American History Part 2
---
Thu, 4 February 2010
151 American History, Part One
This week I start off the conversation of the racist roots of gun control by taking you to church with me. Hoping to help you get a flavor for the thought behind the protest and the confusion. Music is live from my church, in the old tradition of Negro spirituals. Zombie Strike, #19, News, and commentary about the Second Amendment March. visit www.urbanshooterpodcast.com for pictures and links to more Cool Stuff. This is just part one of a month long tribute to history and our past.
---
Fri, 29 January 2010
150 Bling Guns
As Kenn fights the flu he sings Sharped Dressed Man and talks about Dressing For Success to activism and life, the culture of Gun Bling, Gilbert Arenas, gaudy guns, ZOmbie Strike, Hip Hop, rappers and tries to stay positive. Please send a review to iTunes, subscribe to the newsletter and consider being a part of the Urban Shooter Association. New app for the podcast is coming as a CD of Zombie Strike. There are Zombie Targets, and more on www.urbanshoterpodcast.com.
---
Sat, 23 January 2010
149 Higher Ground
Kenn talks about actions, both types, the SHOT show, cool companies, new friends, failure, Higher Ground by Stevie Wonder, Zombie Strike #17, the GunRabbi talks travel, security and teaching, and his thoughts www.urbanshooterpodcast.com
viridiangreenlaser.com
ehphearing.com
surgeonrifles.com
suresiteinc.com
gunrabbi.com
blackmanwithagun.com
---
Tue, 12 January 2010
148 Running on Faith
www.urbanshooterpodcast.com Feel like I am running on faith this week. Thoughts about Rev. Dr. MLK, Jr., the assassination, conspiracy and nonviolence, perspectives, open carry, zombie strike and shoot don't shoot.
---
Tue, 5 January 2010
147- A Baptist Preacher and a Jewish Rabbi Talk Guns
On this episode Kenn has a long conversation with Rabbi Dovid about gun control in their perspective communities. It's off the cuff, candid and real. He sings his version of Bad Company and calls it "American!" Support our troops and God Bless America! www.urbanshooterpodcast.com and blackmanwithagun.com- Join the Urban Shooter Association today! Support the show. Show your love on blackmanwithagun@gmail.com Twitter: urbanshooterpod
---
Wed, 30 December 2009
146 - Watch Night 2009
Happy New Year Urban Shooters! For the full show notes visit www.urbanshooterpodcast.com See you next year.
---
Thu, 24 December 2009
145- Living For The City
see www.urbanshooterpodcast.com for the notes. Merry Christmas!
---
Fri, 18 December 2009
144 - Christmas Card
for details see www.urbanshooterpodcast.com under episodes for the show notes. Merry Christmas
---
Wed, 9 December 2009
143 New or Used Gun For Christmas
The Gun Rabbi is back to introduce his CD, The Ten Commandments of Self Defense
Gun Safety Tip
Kenn sings, This Christmas
Tips for buying a used gun
New Reality Show for Urban Shooter Listeners-Exclusive interview
Shout Outs
Zombie Strike #14
Kenn and the Rabbi sing Hava Nagila
Happy Chanukah!
www.urbanshooterpodcast.com for more fun!
---
Tue, 1 December 2009
142- Tis The Season Baby
Kenn Sings, Eric Clapton's version of "Before You Accuse Me"
Interview with Michael W. Dean
Shoot Don't Shoot
Silliness, jokes and getting ready for the Holiday Season. Zombie Strike #13.
New Pro-gun organization for "cool people only" Urban Shooter Association
Visit the new updated site on www.urbanshooterpodcast.com
---
Wed, 25 November 2009
thank you
thank you for listening, I love you.
Kenn
---
Fri, 20 November 2009
141- Southern Fried Turkey
Almost 90 minutes long this week but what a variety!
Kenn shares a Christmas wish list of a few guns he wouldn't mind getting.
Zombie Strike Chapter 12,
Jens from Germany tells what it takes to register a firearm there,
Rabbi Dovid aka The Gun Rabbi and Kenn speak frankly about life with lessons from the Torah.
Thanks for some many things. and Kenns' normal silliness.
www.urbanshooterpodcast.com
---
Sat, 14 November 2009
140 - ZZ
Shooting Back author Charl Van Wyk Halfway to Somewhere author - Suzanne McComas Veteran Day celebrating the 234th USMC Birthday Zombie Strike Chapter 11 Missionary Trip to South Africa and Kenn needs your support/prayers. twitter: urbanshooterpod Theme ZZ TOP- kenn sings La Grange. visit www.urbanshooterpodcast.com for details and more fun!
---
Thu, 5 November 2009
139 Word Up
-undefined-
---
Fri, 30 October 2009
138- Listener Appreciation
http://www.recellular.com/recycling/data_eraser_data@wirelessrecycling.com Mental Preparedness I love you, thank you for listening. Join the new Urban Shooter Association kenn@urbanshooterpodcast.com zombie strike chapter 9 and the Epilogue Harp 46.com Willie Nelsons' "Angel flying too close to the ground sung by Kenn If you liked the show, please tell someone, write a review on iTunes or send an email link to your friends. www.urbanshooter.us
---
Thu, 22 October 2009
137 - On The Move
Firepower Packed Show that is over an HOUR .
Pro trainers Mas Ayoob, and Rob Pincus give their unique perspectives about Moving and Shooting
Zombie Strike Chapter 8 part 2
Kenn sings Witchy Woman
Jerome from California shares the woes of CALI
make sure you consider joining the the Urban Shooter Association and visiting www.urbanshooterpodcast.com
---
Fri, 16 October 2009
136- Some Like It Hot
www.urbanshooterpodcast.com for details Chicago is in the news this week. Zombie Strike chapter 8 part 1 of a conclusion Sex talk and guns, a discussion YO Mama jokes and calls Shorter show because I got the HNIC virus. Forgive the bad singing.
---
Wed, 7 October 2009
135- Mission Statement
Sponsored by www.crossbreedholsters.com and generous contributions from members of the Urban Shooter Association. Visit www.urbanshooterpodcast.com for details of this show. Write a review on iTunes for The Urban Shooter Podcast. You can contact me at kenn at urbanshooterpodcast.com Thank you very much for listening. Please share the show now that you have found me with your friends.
---
Thu, 1 October 2009
134 - Growing Up With Guns
http://urbanshooterpodcast.com/2009/10/01/134-growing-up-with-guns
---
Thu, 24 September 2009
133- The First Amendment
Sedition, vilify, Sedition Act of 1918 read by Michael W. Dean of www.rightarmofwyoming.com, "You might be a racist" from Patriothumor.us, Fever as sung by Kenn, Author and broadcaster Mark Walters, Zombie Strike chapter 5. www.urbanshooterpodcast.com for details, please leave a comment on iTunes. Thank you so much for listening.
---
Sat, 19 September 2009
132 - Inner City Blues
This is a subject rich episode where Kenn talks frankly about racism, five types of people that you can find sympathetic to joining the gun rights movement, Inner City Blues, Zombie Strike chapter 4, Tips for buying online from Jens in Germany. And interview with a MD Tenth Cavalry member/leader. New Music from RightArmofWyoming.com - go to www.urbanshooterpodcast.com for details.
---
Fri, 11 September 2009
131- I'm Your Vehicle Baby
Carrying A Gun In Your Car Terrorism- Remembering 9/11 Chapter 3 –Zombie Strike, Narrated stories by Derek Ward Kenn sings 60's hit, "Vehicle" by The Ides of March SEE www.urbanshooterpodcast.com
---
Mon, 7 September 2009
USP 130- Chillin' and Grillin'- Labor Day 2009
It's a Stormy Monday but its all good. visit www.urbanshooterpodcast.com
---
Thu, 27 August 2009
129- So Damn Happy
129- So Damn Happy see the new site on www.urbanshooterpodcast.com for the show notes. Radar Love- Golden Earring (1973) Gun Review of the Model 66 S&W Zombie Strike- New Story read by Kenn, Part one, written by Derek Ward
---
Fri, 21 August 2009
USP 128- Black Man With A Gun
New site for podcast show notes on www.urbanshooterpodcast.com Kenn tackles the controversial Black Man With A Gun episode in AZ Airsoft conversation with Matt A father and son go to GunSite, Jeff's report Kenn sings Louis Armstrong's "Wonderful World" Phil 4:8
---
Sat, 15 August 2009
127- Fly Like An Eagle
The week starts off with some negatives that affect Kenn's normally cheerful disposition. He snaps back after singing Steve Millers' "Fly Like An Eagle". Shoot Don't Shoot has a twist, it's from the criminals optic. A Joke. News, and more.
---
Sat, 8 August 2009
126 - Right Place Wrong Time
On this hour long + podcast Kenn talks about 1973, Dr. John's hit song "Right Place, Wrong Time" is the title track, the M1911, paintball and airsoft for beginners like him. Jokes, shout outs and input from Urban Shooters. News about the new suit against Wash. DC and the Chief of the Metropolitan Police. And much love. Please send a review to itunes for me if you haven't before. Thank you very much.
Kenn
---
Sat, 1 August 2009
125- CrossFire -USP
Kenn sings Stevie Ray Vaughns' "Crossfire",
Joke
Lunar Effect
News
Prayer
New Patch coming for Urban Shooter supporters
Airsoft and Paintball feature coming soon
Remington 870 Pump Shotgun shopping
New iPhone App for gun rights - www.gunrightsapp.com
Camp Perry - http://www.odcmp.com/NationalMatches.htm
---
Sat, 25 July 2009
124 - Run Thru The Jungle
News about the nation wide reciprocity act that failed & commentary about it
NICS proves sales are up
Kenns version of "Run Through the Jungle" by CCR
A prayer and Message for men, HOPE
Part two of the 870 Remington Pump Shotgun
Ten Commandments of Gun Safety
Please tell someone about the podcast. spread the news www.urbanshooter.us
---
Sun, 19 July 2009
123- Easy as 123
Easy as 1,2,3. This is episode 123 of The Urban Shooter Podcast
Quick tips- Jeff contributes
Kenn sings "Easy" from Lionel Ritchie
Gun Review: About the 870 Shotgun part 1 (Article by Clint Smith)
PSA- Suicide
News: Legal Guns in DC not used one year later – Washington Times
Interesting Person of the Week: Vernadine Schatzline-
HOT NEW PROGUN VIDEO - http://www.youtube.com/watch?v=o86JTxJ9myU
---
Sun, 12 July 2009
122- Loving You
Kenn sings Otis Reddings' song Protecting your Ears About May and Shall Issue News Report from the GOA about Vet Rights Just some comments as I plan something big for Urban Shooter Association members. http://www.nraila.org/GunLaws/Federal/Read.aspx?id=70 http://www.tsa.gov/travelers/airtravel/prohibited/permitted-prohibited-items.shtm#6 Kenns' video- http://vimeo.com/5544067 Don't forget www.Oursafehome.net for beginning firearms training online.
Ken Blanchard - Freedom from MG on Vimeo.
---
Sat, 4 July 2009
121- Its about US
the NEW "Pro-gun Variety Podcast"
Kenn sings, Eddie Floyd's "Knock on Wood"
Happy Independence Day

After realizing what my show was, I changed the opening courtesy of my favorite voice over guy and share the spotlight with other Urban Shooter listeners this week. My friends really bless me on this show.
Episode 121 is About US.
The Second Amendment and what the 4th of July means. Rick Ector- Detroithttp://detroitcpl.blogspot.com/2009/07/what-this-fourth-of-july-means-to-this.html, Derek G.- FL, Shadrack M- DE, Tony Brown-AZ- (Firearm Café Podcast) Nate H- CA contribute.
Good News- The future of gun rights is in good hands with the tactical Gen. X, Y, and Millennials
Zombie Strike returns with Mick McArt of the Armed Citizen podcast, and Eric Shelton of the Handgun podcast.
Protecting What's Yours- thoughts about preparation, mindset, and stalkers
"Struggle is the proof you have not been conquered"
Thanks for listening, please send a review on iTunes or Zune. And tell a friend about the show.
Your friend and brother from a different mother, Kenn
Don't forget www.Oursafehome.net for beginning firearms training online.
---
Thu, 25 June 2009
120- Just Sharing, Guns, Knowledge and Experiences
see www.urbanshooterpodcast.com
Skip Coryell- www.Secondamendmentmarch.com
CCW in Wisconsin
"Gun Free Zone Fallacy" - Travis Donily
Tip-Save your eyes
"Guns, Kill, Murder and Revenge"
podsafe music from Ken Robarge and Psychosoul
Kenn sings the Impressions version of "It's Alright" in the opening.
Don't forget to leave a review in iTunes. Thank you for listening. Please tell your friends.
---
Sat, 20 June 2009
119.2-Body Armor and Protecting Your Assets
This is the second reiteration. the first version was missing 7 minutes.
Kenn sings Bo Diddly's "Who Do You Love",
thoughts of Fathers Day,
Gun Owners as Minorities,
news: Hero-Gear.com releases their first rifle.
Shout Ours Galore,
about the show, Urban Shooter Association Contest,
www.crossbreedholster.com,
new zombie targets, blackmanwithagun.com,
clip from "Soul Men",
input about ballistic vest from Ted Deeds of the Law Enforcement Alliance of America, MiguelCaballeroUSA.com, and Doc Wesson of the Gun Nation podcast.
---
Mon, 15 June 2009
118- Go Green, Learn to Reload
Green River- Kenn sings a 60's classic originally from Creedence Clearwater Revival. Think I was near green river
Tennessee and some of TN done rubbed off on your boy. I like music of all types so don't typecast me. (smile) Introducing "OurSafeHome.net" a new computer based training system for women to get familiar with firearm safety. It won't replace traditional training but will help more people learn on their own faster.
Introducing Discreet Carry AR15/M16 Kit from Persimmon Ridge Enterprises, Inc. tac2@preinc.net
Hope for more ammo Being Content with what you have-
I am not saying this because I am in need, for I have learned to be content whatever the circumstances. Phillipians 4:11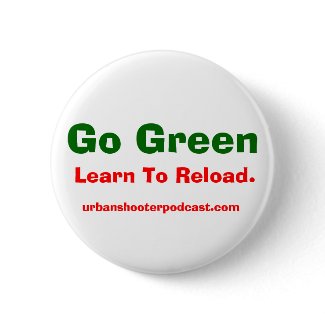 Go Green Button
by
KennBlanchard
buy buttons
at Zazzle
---
Tue, 9 June 2009
Smooth- Episode 117- The Urban Shooter Podcast
Kenn sings a Santana song. Trip to Tennessee introduced me to Hero-Gear.com, a .458 WinMag conversion rifle that used to be a M1 garand, McCann Industries, and Oleg Volk in person. Jokes, News, and a new feature.
---
Mon, 1 June 2009
NY State of Mind - USP #116
Interview with John L. Cushman about NY RKBA The perfect Gun Where to Store your firearm Kenn's Folsom Prison Blues www.crossbreedholsters.com http://podiobooks.com/title/a-users-manual-for-the-human-experience http://www.GunTrustLawyer.com/
---
Mon, 25 May 2009
Face Toward Enemy- USP #115
Face the speakers toward the nongun people and maybe you can show them not all pro-gun people are the same. This show features two articles from listeners. Curtis Dixon of Louisiana and Father Daniel Beegan share their thoughts on Campus Carry and the Ammo Shortage (respectively). About campus concealed carry, concealedcampus.org, Ruger SR556, remembering those that died in the service of our country, and about Memorial Day. facebook me and look for me on twitter. www.kennblanchard.com has all my links.
---
Mon, 18 May 2009
114- After The Party
Here are some of the topics on this show, not in this order: Ballistic Fingerprinting- Dr. John R. Lott, Jr. Zombie Strike- NUGUN Blog's Jason .22 LR are a good investment New feature: SECURITY! And Kenn sings again…
---
Fri, 8 May 2009
This Masquerade - USP #113
Happy Mothers Day you muthas, about Mothers Day, Shoot Dont Shoot, about self defense, Live From The BoomStick Lounge, Kenn sings "This Masquerade", www.crossbreedholsters.com, www.kennblanchard.com, Please leave a positive comment on iTunes
---
Mon, 4 May 2009
Great Balls of Fire # 112
Great Balls of Fire as sung by Kenn Blanchard, give a man a Mac and who knows what will happen. Intro into the GLOCK 17/19, origins, specs and stuff, news from CALGUNS.net and reviews from Urban Shooter Glock owners. All fun, all free, all for you on episode 112 of the Urban Shooter Podcast. Sponsored by www.crossbreedholsters.com www.kennblanchard.com blackmanwithagun@gmail.com
---
Tue, 28 April 2009
I Can't Get No Satisfaction or Ammo
See www.kennblanchard.com for details. Kenn
---
Mon, 20 April 2009
Best Indoor Range On The East Coast - #110
Kenn reviewed and visited the Silver Eagle Group Range in Ashburn, VA. Details on www.urbanshooterpodcast.com. Show sponsored by www.crossbreedholsters.com. This show is shorter than most. Experimenting with time. Do you think it is too short?
email me
---
Tue, 14 April 2009
For My Peeps- show 109
This show has a serious tone where I take a hard look at where we are and propose how we treat it.
Shout Outs,
Diver City,
O Hell No (gun buy backs),
Suicide,
Navy SEALs story, (in Honor of our Fighting Men)

Happy Easter 2009!!!

---
Fri, 3 April 2009
Spring Time Simple - #108
www.Crossbreedholsters.com Presents-
The Urban Shooter Podcast
I keep it simple this show. Could you provide a review for me on iTunes?

This week:
Shouts outs galore
Apology about show 107
About the podcast
Tip for indoor ranges- Eye and Ear protection, targets and ammo
What Kenn shoots
What Kenn has on the horizon (plans)
A tribue to his grandmother called Her "Kitchen"

Thank you for you comments. see www.urbanshooterpodcast.com for more.
---
Sun, 29 March 2009
Keep It Real- #107
---
Tue, 17 March 2009
Church and Politics- Episode #106
I think there is part of a pro-gun sermon on this one. see www.urbanshooterpodcast.com for details

---
Thu, 5 March 2009
What's Cooking- Episode !05
Episode 105
What's Cooking
Zombie Strike with Mick McArt
Headline from the GOA and more
See www.urbanshooterpodcast.com for show notes.
---
Sun, 22 February 2009
Free- Episode 104
see www.urbanshooterpodcast.com for details.

---
Sun, 15 February 2009
B+ (Be Positive)
see www.urbanshooterpodcast.com for show notes

and www.blackmanwithagun.com for Zombie targets, and pics.

www.crossbreedholsters.com

---
Mon, 9 February 2009
"O.B.E." - episode 102
see www.urbanshooterpodcast.com or www.urbanshooter.blogspot.com for details.

---
Wed, 28 January 2009
The Urban Shooter Podcast-101- The Merry Old Land of OBZ
---
Sat, 10 January 2009
100th Episode
---
Tue, 30 December 2008
99- Happy New Year
Highlights from 2008
Mama Helen
Shoot Don't Shoot - U Decide
End of year thoughts
Computer cleaning
www.blackmanwithagun.com
www.Crossbreedholsters.com
www.gimagclip.com
Special thanks to the Urban Shooter Association for their continued support of the show and friendship.
Happy New Year Everyone!
---
Tue, 23 December 2008
Merry Christmas-98
Merry Christmas
Domestic Violence
Mama Helen: Which Gun For You?
Inspirationally Speaking: Boss or Leader

www.urbanshooterpodcast.com
crossbreedholsters.com
www.giholsters.com
www.blackmanwithagun.com
www.blackmanwithagun.info


---
Wed, 17 December 2008
The Urban Shooter - Episode 97
Christmas, Tis the season to get ripped off. Kenn talks about ways to
harden your life. pick pockets, home security, zombie strike with Mick
McArt, Kenn leaves the Gun Rights Radio Network. zazzle.com recants,
a contest for the name of the "little girl" on Zombie 3.0 target,
Merry Christmas to all.
KennBlanchard's Gallery at Zazzle
www.crossbreedholsters.com
---
Sat, 6 December 2008
lil crazy- Episode # 96
First week of December and I am getting in the Christmas spirit.
Regular Features:
Mama Helen
Monologue about "The Black Codes"
Zombie Strike guest staring Nate
Introducing a new feature "Spiritually Speaking"
Commercials:
Garrett Industries www.gimagclip.com
www.Crossbreedholsters.com
Zombie Targets 3.0
Black Man With A Gun
- Good first book for new gun owners
---
Tue, 25 November 2008
Happy Thanksgiving: Hunting and "I'm the NRA"
Happy Thanksgiving.
---
Sat, 15 November 2008
"High Hopes"- USP Episode #94
Shoot Don't Shoot - U Decide

Zombie Strike- Mick McArt

Veterans Day Tribute- Brent Greer

Mama Helen- Will the Feds research me if I buy a gun?

Now that the rush is on- Guns everyone needs vs wants:
Ruger GP 100-
Ruger 10/22 rifle-
S&W model 66 -
Pump Shotgun- Winchester or Remington 870

Book Review and Recommendation: Massad Ayoob- The Gun Digest Book of Concealed Carry *****



---
Mon, 10 November 2008
"We're Surrounded" - The Urban Shooter Podcast -# 93
Kenn Blanchard provides a monologue called "we're surrounded"
Mama Helen provides some suggestions for safes and gun lock boxes
Shoot Don't Shoot U- Decide
Supporting instructors, holster makers and friends in business.
Veterans Day


---
Sat, 1 November 2008
USP 92 - Refresh
Sometimes you have to go back and pick up new riders on the journey. This show gives you a taste of Kenn Blanchard the activist and the Christian.

This show features:
A monologue about Gun Control, Fear and Activism
Three news articles about the increase of gun sales
Shoot Don't Shoot- U Decide
Zombie Strike - Thieves in the pantry
A prayer for my brothers and sisters going through...

---
Tue, 28 October 2008
Black Cat- 91
Happy Halloween
History of the black cat
Bad News
Mama Helen's picks for gun storage
Interview with Rick Ector- Detroit
Importance of Hearing Protection
Zombie Strike- Eric's Rescue
Answer to episode 90's Shoot Don't Shoot- U Decide
Recommendations on how to make money in the gun biz in 2009

show length- 64 uncivilized minutes
Machine Gun- Jimi Hendrix
podsafe music by Psykosoul

---
Tue, 21 October 2008
Common Sense - Episode 90
This week on episode 90-
Kenn explains some stuff that he does and why he does it.
Famous broadcaster and podcaster Eric Shelton reports in from Zombie Strike
News from East to West
Shoot Don't Shoot- U Decide --will curdle your hair
Introducing the Urban Shooter Internet Match
And some shooing tips from a professional instructor out of
Virginia [ Perroni's Tactical Training]
Shout Out to the VCDL (Virginia Civil Defense League) and more
---
Tue, 14 October 2008
It Was A Good Day -#89
Mick McArt guest on Zombie Strike
Mama Helen provides wit and wisdom about straw purchases
Answer to last weeks Shoot Don't Shoot- U Decide
Readers Write
The Saga of the new Browning High Power
A War Story
And some news

---
Wed, 8 October 2008
R U Old Enuf? Episode 88
Special thanks to The Urban Shooter "Tampa Zombie Squad" (Derek, Jodie, Dave R., Josh, Tabby and Rush.)
Zombie Strike (Blanchard Studios, copyrighted 2008)
Mama Helen- "How old do you have to be"
Racism and Kenns' Commentary
Gunbroker.com- Kenn Got His Browning (more on that later)
Where do you get your ammo?
Shoot Don't Shoot- U Decide
Gunrightsradio.com forums "The Urban Shooter"
urban-shooter.com
ZombieStrike.blogspot.com
Podsafe musician- Psychosoul
---
Sun, 28 September 2008
Black Rifles, Revolvers and Zombies -#87
After being late with last week I tried to get ahead of the things. This weeks show brings back Mama Helen (The Conclusion of Buying a Regulated Firearm in MD); I talk about revolvers: Why I recommend one as a first gun and how to clean it) A couple of Urban Shooter listeners talk about Urban Rifles, and I introduce a new feature, I call "Zombie Strike". In the news, I ask you to pay attention to the plight of Oleg Volk and The High Road Forum. The Shoot Don't Shoot, Decide proposes a question that you can answer on the Gun Rights Radio.Com forums (The Urban Shooter) and thankful for 777+ listeners.

I also designed a new target called Zombie 2.5 for sale to raise money for a church van I'd like to get for our seniors.

*I had an issue with the first upload to this show. if you don't hear anything, refresh your system and reload. (my baaad)




---
Tue, 23 September 2008
Fall Preview- Episode 86 of The Urban Shooter Podcast
Fall is when all the good TV shows come out. Its also the work of the devil because that is when you shouldn't and can't watch TV. You know what I mean. When I was in school, cool shows came out, I had homework. After I got a little older, when the cool shows came out, I had a date, worked night shift, something. Well this episode we are previewing a custom made target I had made up and some more silliness for the show to keep you smiling. I am preparing for October already and the theme of the month will be borrowing from Halloween and scary stuff like Zombies. I had a good time with the Labor Day show, and then it hit me. Well, you'll hear about it soon. This week Mama Helen is back from the beach to talk about how to buy an regulated firearm in Maryland part one, steps 1-5 News- Anti-gun DC politicians get slapped by reality Tips from an US listener from in New Mexico about securing your firearm Interview with Oleg Volk Clinton Gun Ban AGAIN And introducing my newest feature, Zombie Strike Sorry for the late show. I almost scrapped it because I didn't like the way I did something. Will do better next week. I'm hyped because I learned something new and got so much new content. I can't wait to share it. If you don't hate this one too bad I'll be encouraged to continue... Don't forget our sponsors- Urban Shooter Association members, cool how-to-videos.com Special thanks to the faithful and funloving listeners of THE URBAN SHOOTER Podcast- U ROCK! Check out what happened in DC at the hearings: http://octt.dc.gov/services/on_demand_videoon_demand_september_2008_week_3.shtm
---
Tue, 16 September 2008
Black and NRA- Episode 85
Yes, there are many people of color in the membership and staff of the National Rifle Association.
This week:
How To's
- Don't forget about revolvers
News
-
Somebody stole Ms Rhode's shotgun
Mama Helen is at the beach
Shoot Don't Shoot U Decide (tell me what you would do tactically)
---
Sun, 7 September 2008
#84 - Terrorism
Welcome to one of the most audacious advocates for the Right To Keep And Bear Arms' podcast.
This week on the Urban Shooter Podcast:
GunBroker.com –Found my Brown
Special* - Terrorism, Part One
Regular Features
:
Views: Though it Palin in Comparison, I'm Biding My Time Until the Obamanation
Mama Hellen – Transporting
News: Capital Gun Owners

Interviews: none this week Check me out on
TWITTER
---
Mon, 1 September 2008
83- Labor Day 2008 - "When Zombies Crash Your Cookout"
This week I invite you to my Labor Day Cookout. Its been a fast summer. Hope you are doing well. This week on the Urban Shooter Podcast:
What would you use if zombies invaded your cookout?
Shoot Don't Shoot U Decide
News-Home Invasions
Mama Helen's Safety Tips
Commercial block ( BMWAG Book, PSA from CAFÉ)
Defensive Shooting- Talks about grip
the Cook out
---
Sat, 23 August 2008
Defensive Shooting - #82 The Urban Shooter Podcast
Midlife Crisis Comes to the Black Man With A Gun
Shoot Don't Shoot U Decide Scenario -
Shooting Defensively Tip #1
Introducing the Mama Helen- Safety Instructor for the USP
A little encouragement and a prayer request for my family.
'Rubber Biscuit'- Blues Brothers
Episode 82 made possible by generous contributing members of the Urban Shooter Association
---
Mon, 18 August 2008
GUN FACTS- Episode # 81
Gun Facts
author, activist, Guy Smith (gunfacts.info) Shoot Don't Shoot U Decide- At Church Introducing a new feature- Defensive Shooting News-
Dick Heller
is everywhere Beware of the Opportunist Capital Gun Owners have their first meeting Don't forget about the
Gun Rights Policy Conference
Sept 26-28, 2008 in Phoenix, AZ
---
Sun, 10 August 2008
Out Damn Red Spot - Episode 80
Out, damned spot! out, I say! --Macbeth. Act v. Sc. 1.
President of
The Richland Group
, Guy Blocker talks about
Crimson Trace
Laser systems for new shooters. DC resident and Chapter Presidents of both the Second Amendment Sisters and Community Association of Firearms Educators (CAFÉ), Paula gives her take on DC and its fall out from the US Supreme Court Case.
What this country needs is more people to inspire others with confidence, and fewer people to discourage any initiative in the right direction more to get into the thick of things, fewer to sit on the sidelines, merely finding fault more to point out what's right with the world, and fewer to keep harping on what's wrong with it and more who are interested in lighting candles, and fewer who blow them out.

-Father James Keller
And I have the best listeners in the whole world on
To-morrow, and to-morrow, and to-morrow, Creeps in this petty pace from day to day, To the last syllable of recorded time; And all our yesterdays have lighted fools The way to dusty death. Out, out, brief candle! Life's but a walking shadow, a poor player, That struts and frets his hour upon the stage, And then is heard no more. It is a tale Told by an idiot, full of sound and fury, signifying nothing. (V.v.19-28)




Episode #80 has been sponsored and supported by the selfless, patriotic, members of the Urban Shooter Association.
---
Mon, 4 August 2008
Being Kenn Blanchard - Episode 79
The intro includes a true story about the Black Man With A Gun.

John M. Synder, the "dean of Gun Rights" article is read in the NEWS segment and then Kenn INTERVIEWS John and they talk about DC, the Heller Decision and Sen. Obama

The Shoot Don't Shoot You Decide - "The Convenience Store"

This weeks' "How To" is really a "How Do"- Kenn prays for healing and gives insight into why he is so different

---
Mon, 28 July 2008
DC's Gun Rules and GunBroker.com - 78
Shoot or Don't Shoot U Decide- Puts you in the awkward position of a law Abiding DC resident. Please send your comments to gunrightsradio.com Urban Shooter Forum for episode # 78 The crap you have to put up with to register a gun legally in DC.

I tried to get a Browning High Power on Gunbroker.com, I lost the auction.

Intro and outro voiceover: Debra Jean Dean http://www.debrajeandean.com

You can check out the DC Gun Registration Form on my section of the Gun Rights Radio Forums.

Intro music is from www.funkyguitar.com
---
Sun, 20 July 2008
SA's Prohibited in DC - Episode # 77
The 1962 group known as the Tokens brings us in with a Lion...

News- History of DC Gun Foolishness (History)-and the Gun Control Act of 1968, Semi-auto's considered machine guns in DC
How-To's- A little about Ammo
Views- An interview with Bob

Recommendations for your first purchases or a good first gun

<span style="font-weight:bold;">dc guns</span>

Although innocent, defenseless, law-abiding, decent, harmless, female, gay, weak, elderly, victimized, abused and other citizens in D.C can now keep and bear arms thanks to the Supreme Court's glorious ruling supposedly restoring the rights the government had mercilessly confiscated, creating the biggest crime-ridden phony "gun-free" zone in the nation, D.C. residents cannot obtain handguns, which are "the
quintessential self defense weapon" according to the Court, thanks to federal law:

18 USC § 922(b) It shall be unlawful for any licensed importer, licensed manufacturer, licensed dealer, or licensed collector to sell or deliver --

(3) any firearm to any person who the licensee knows or has reasonable cause to believe does not reside in (or if the person is a corporation or other business entity, does not maintain a place of business in) the State in which the licensee's place of business is located...

No word yet on whether dealers in adjacent Maryland and Virginia are willing to risk their business licenses and incur prison sentences, to sell legal firearms to residents of D.C. Officials in D.C. implied slightly that it would be OK, but they have no authority over BATFE, the agency that would make the arrests.

http://www.washingtonpost.com/wp-dyn/content/article/2008/07/17/AR2008071703073.html?hpid=topnews
---
Sun, 13 July 2008
Episode # 76 - "Ism's"
Isms and Other Destructive Forces.
This week:
Shoot Don't Shoot features a similar scenario to what happened with
Joe Horn.
Views- "Isms" (activism, racism, altruism, capitalism, sexism, classism, etc)
How-To's- Finding your dominate eye without the Doctor
Shout Outs and introductions to the new listeners of the USP.
A sneak peak (listen) to the rap song I was trying to release earlier.
---
Sun, 6 July 2008
Happy Independence Day - Episode #75
Happy Independence Day 2008
I took a few minutes from my vacation to upload this live from Delaware. This week an interview with local DC firearm instructor Ricardo Royal whom testified at a DC City Council hearing on the aftermath of the US Supreme Court.
Kenn provides a warning to all gun rights activist to be careful that the enemy doesn't use their exuberance against us all. Words are powerful and politicians (lawyers) are known to twist the good intentions of people to their benefit. Don't think you are "all that" when it comes to politics.
This is a teaser as next week we are going to really go at some tough subjects.
Please support the Gun rights Radio Network at gunrightsradio.com
visit The Urban Shooter forum Become a member of the Urban Shooter Association at www.urban-shooter.com and help Kenn grow the show.
---
Fri, 27 June 2008
DC Gun Ban Struck Down - Episode 74
"I just want to celebrate, yeah, yeah!"
Today I celebrate the Supreme Court decision to end the misinterpretation of the Second Amendment of the US Constitution in our nation's cities and my 46th birthday. (I am 30 years old with 16 years experience!)
This podcast will use a few bars from Motown's Rare Earth, "I just want to celebrate" which pretty much captures how I feel about everything right in my life. Interesting note is that this was one of Motowns first, all White American groups that had this hit in 1971. I love the fact that music is universal and the color of your skin doesn't mean "jack". Play that funky music …
OK the Supreme Court of the United States agrees with us that the Second Amendment is an individual right. Now what? I know there is confusion as to whether the law where you live is a state or federal law and which one will finally rule.
The Supremacy Clause in the Constitution says: This Constitution, and the Laws of the United States which shall be made in Pursuance thereof; and all Treaties made, or which shall be made, under the Authority of the United States, shall be the supreme Law of the Land; and the Judges in every State shall be bound thereby, any thing in the Constitution or Laws of any State to the Contrary notwithstanding.
Meaning that federal law always trumps state law if there is a conflict between the two. If there is no conflict then the state law will be used but if there is any question or conflict of the two reading as the same, then the federal rule would win. The bad news is, cities and states can and will still create restrictions to keep you from being able to protect yourself and family in the letter of the law. It is no coincidence that lawyers become politicians.
Shoot or Don't Shoot- You Decide Scenario #4 is complex - "The Good Samaritan"- lets talk about this on the forums on gunrightsradio.com/forums2, Urban shooter
please leave some comments on iTunes for The Urban Shooter Podcast
thanks again for listening,
Kenn
blackmanwithagun@gmail.com gunrightsradio.com
---
Thu, 19 June 2008
Shoot or Don't Shoot- You Decide, Episode # 73
I introduce a new feature called Shoot or Don't Shoot where I hope provide some thought provoking discussion about what you would do if placed in this circumstance.
I'd like to read your responses on the new Urban Shooter Forums (at the bottom of the forum list) on Gun Rights Radio.
I talk about pendulum and Use of Force briefly.
Part 3 of our racist roots of gun control segment ending in 1941. More to come.
Introduction of new site and forum of five of the best pro-gun podcasters in the entire world. http://www.gunrightsradio.com/ and http://gunrightsradio.com/forums2/
Answer to the contest question from episode 71 is revealed by the Min. of Defense. There were no winners BTW.
---
Wed, 11 June 2008
Happy Fathers Day- Episode 72
See also the podcast show notes on www.urbanshooterpodcast.com
History of the Black Codes Continued
Frank
tells us about the NRA Annual Convention The Minister of Defense returns with his thoughts on Fathers Day and being Men Intro music by
Tyrone Shuz & his Funky Bluz
Band
http://www.funkyguitar.com/
No winners from last weeks contest question
NEW! Check out the NEW Pro Gun Podcast FORUM
Gun Rights Radio
I am all the way at the bottom of the page. Sign in, and start communicating with Urban Shooter listeners from all over.
www.gunrightsradio.com/forum2
Show being sponsored by members of the new Urban Shooter Association. Here are a few refs Bob:
Collection of all the Laws of Virginia, form the First Session of the Legislature, in the Year 1619, p. 95 (W.W. Henning ed. 1863.) [GMU CR LJ, p. 67]
The Second Amendment: Toward an Afro-Americanist Reconsideration," Robert Cottrol and Raymond Diamond 1991, p. 331
Herbert Aptheker, Nat Turner's Slave Rebellion, p. 74-75 (1966) Georgetown Law Review, P. 338
Journal of Criminal Law and Criminology, NOrthwestern University, Vol. 85, No. 3, Gun Control and Economic Discrimination: The Melting Point Case in Point, T. Markus Funk, 1995, p. 797
and more to come. kb
This show is dedicated to my son.
---
Wed, 4 June 2008
Episode # 71- A Little History
Remembering local (Maryland) gun store owner, Gregory Real of RealCo Guns who passed away last month unexpectedly. This show introduces the first part of three historical accounts of the infamous Black Codes. Kenn explains that many of todays gun control laws mimic US slave laws.
Contest winner of "what show did that sound come from", the winner was Mick McArt, host of the Armed Citizens Podcast. Kenn has finally seen the Springfield Armory XD and likes it. New Contest Announced Intro and Outro music from Tyrone Shuz and His Funky Bluz, CD, "Funkin A" - www.funkyguitar.com What podcast do you listen to? Kenn is looking for something to make him laugh.
---
Fri, 30 May 2008
Take The High Road - Episode #70
This week show highlights some of your emails to me and one of the best forums for gun owners on the internet, "TheHighRoad.ORG"
The music featured this week is from my guitar teacher's first CD, 'FUNKIN A' by Robert Fiester aka, Tyrone Shuz and His Funky Blues.
www.funkyguitar.com
A whole bunch of shout outs and a little about cover and concealment, Blanchard style.
---
Fri, 23 May 2008
What's Your Malfunction? episode -69 - The Urban Shooter
A little gun safety and tactical information about clearing mechanical stoppages while shooting. Ted (
LEAA
), and I discuss appropriate actions for clearing your handgun when you have a firearms malfunction. Do you TAP, RACK, SHOOT; or TAP, RACK, ASSESS? Find out what the heck we are talking about on this 32 minute episode.
---
Sun, 18 May 2008
Using a Gun, Episode #68
Fresh and funky from a weekend alone with Spousal Unit, 1A, episode 68 is a mix of tactics and patriotism. Kenn changed his reservations from the NRA Annual Meeting to a hideaway with the Mrs in another locale for some special time. Happy Belated Mothers Day to all the ladies. Kenn reminds us about the Pledge of Allegiance and actually sings the National Anthem. Reading from Dr. John Lott, Jr's book, "Straight Shooting" about DC Gun Laws and crime. Supported by the Urban Shooter Association and lovers of freedom everywhere.
---
Sat, 10 May 2008
"Carrying a Gun" #67 - The Urban Shooter Podcast
Kenn and Tedd (LEAA) talk about legal concealed carry. Kenn encourages his fellow podcasters and listeners to hang in there and just be themselves. A true armed citizen story that never made the papers from Baltimore, MD. Kenn wants to know what system do you use, holsters and brands, 888.772. 6262 or blackmanwithagun @gmail.com This show supported financially by members of the Urban Shooter Association.
---
Fri, 2 May 2008
Cops and Gun Control - # 66 The Urban Shooter
Law Enforcement Alliance of America (
LEAA
)
Kenn and Ted tackle Gun Control Myths and Law Enforcement
This show dedicated to the men and women of law enforcement and our Armed Forces.
See http://www.urbanshooterpodcast.com for the blog
This show is brought to you by the fantastic fans and friends of Kenn also known as the New Urban Shooter Association.
Semper Fi Y'all!
---
Sat, 26 April 2008
65- Friends & Links
I feel for you. (Gun Owners of the City)
Not a sermon, just something to think about if you don't have a firearm and live in the city.
The below list/links are friends of ours that don't get that much positive press that I thought you should take a notice of if you are looking for allies or haven't heard of them before.
Associated Clubs Of Baltimore, Maryland
Buckeye Firearms Association- Ohio
Citizens Committee For The Right To Keep And Bear Arms
Geeks With Guns
Grassroots Of South Carolina
Gun Owners Of America
Illinois State Rifle Association
Jews For The Preservation Of Firearms Ownership
Kentucky Coalition To Carry Concealed
National Firearms Association (Canada)
National Rifle Association
Peoples Rights Organization
Pink Pistols
Second Amendment Foundation
SECOND AMENDMENT SISTERS,
Students For Concealed Carry On Campus
Texas Concealed Handgun Instructor Association
The Firearms Coalition
Virginia Citizens Defense League
Western Missouri Shooters Alliance
---
Sat, 19 April 2008
64- Obama & Gun Control
This week commentary about Sen. Barack Obama's failure to stand for the right to keep and bear arms (RKBA). I usually don't get spun up about politicians but this is America's first black president. Yeah, I said it. I didn't misspeak. We have a long way to go before the election but I predict, forecast, prophesy and bet this dude wins the overall election. You've been warned… see also www.urbanshooterpodcast.com for more commentary and blog

---
Sat, 12 April 2008
#63 - The Price of Freedom...
Its Cherry Blossom Time in DC. (The Jefferson Memorial)
The price of freedom is eternal vigilance
- President Thomas Jefferson
Remembering Charlton Heston
Advocating membership in the NRA
Remembering my purpose-to inspire, educate and entertain
Join the Urban Shooter Association for the price of a premium cup of coffee and support gun owners of the cities.
---
Sat, 5 April 2008
The Urban Shooter Podcast- Episode #62 - Race and the Rev MLK, Jr.
Race and a memorial to the late great Rev. Dr. Martin Luther King, Jr. Just sharing my thoughts on race, and the gun issue. This is not a long show, just what I am feeling. I remember when King was killed. I usually listen to his sermons throughout the year and I included his last for you here, "I am so glad you didn't sneeze". Not a gun topic but a part of American history. And how else are you going to hear it unless your friend and brother shares it with you?
---
Thu, 27 March 2008
The Urban Shooter, Show #61 - A Woman's Perpective
Can I toot my own horn? (thank you) The Urban Shooter is not about black, white, yellow or brown people but about everyone. We live in Diverse City baby! Folks try to pigeon hole, type-cast and stereotype but I rebuke those devils every time. On this show, you are going to hear from the very able and nice, Jane from the Second Amendment Sisters, sharing insight on what one woman thinks about the range, how best to train women, holsters, the right to carry, carrying concealed and a whole lot more.
Inquiring minds wanted to know:
How does a guy introduce the shooting sports to his girlfriend or wife? Can he with success or is it like driver's Ed? (is it better from an outsider) Do you think women are better instructors of women in firearms? What got you into shooting? How do you defend it to your friends? What kind of holsters do you find comfortable? Do you carry concealed? What problems do you encounter that you think men don't have to think about when shooting, carrying concealed, being in the gun culture?
Over in Hong Kong, the brothers over there have taken IPSC training to another level, under cover with air soft guns. Great for your basement (hint, hint) Airsoft Retailers: (Tokyo Marui or Western Arms are the two best brands)
WGC Shop
(They have some nice custom options)/
STEEL HAWK
Airsoft
Elite Airsoft
(Nice but pricey!) Join the Urban Shooter Association today and support the show and the mission. thanks, Until next week, Kenn
---
Sun, 23 March 2008
Episode # 60 - After Action Report
DC resident and member of the audience of the Supreme Court Case in Heller vs. DC provides some personal observations.
British Korean activist tells how he came to become a
RKBA
advocate, what he is doing on his Korean website (in Hangul) and plans in the future after seeing the light and reading George Orwell's "1984".
Kenn provides some not-so-nice commentary at the end with a mix of country, and blues.
NEED A ROOM for the
NRA 137

th

Annual Meeting & Exhibits
in Louisville, Kentucky, May 16-18?
I have a non-smoking paid reservation at the
Hilton Garden Inn
The Hilton Garden Inn Louisville Airport hotel is at the airport corridor adjacent to the Kentucky Exposition Center where the convention is as well as Six Flags Kentucky Kingdom amusement park. Churchill downs, Kentucky Derby Museum, Papa Johns Stadium and the University of Louisville campus and Cardinal Park are. I can't go but will auction off my room to the highest bidder to raise money for the Urban Shooter site. You can
email me
, if interested.
---
Sat, 15 March 2008
Episode # 59 - In The City
I survived the flu, and bronchitis and back to talk about how to get around downtown for the US Supreme Court case involving the Second Amendment, and the Popes' visit to the Nations Capital. Reporteding live from the Mayflower Hotel.
What's on a few folk's mind: The price of sex after the Governor of New York's scandal at the Mayflower Hotel.
Kenn sites a few comments from an article from www.usnews.com on the Right To Keep And Bear Arms
The Minister of Defense shares a confession of an Urban Shooter
Thanks to all that sent email in my sickness/recovery time. You can send emails too. blackmanwithagun@gmail.com
---